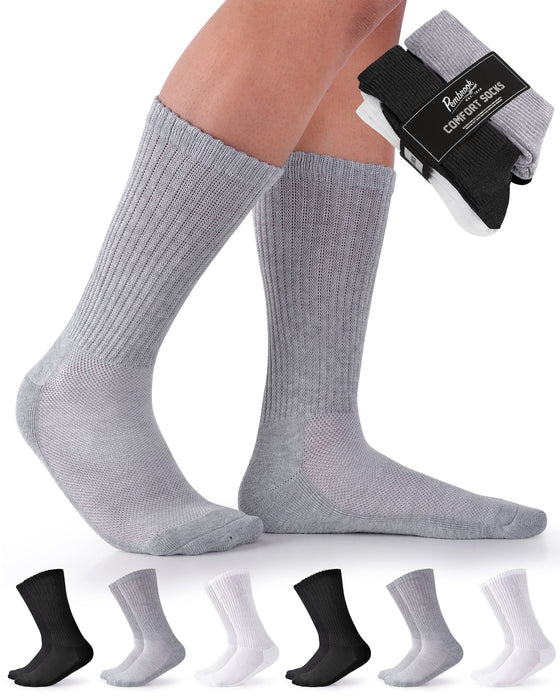 Pembrook Diabetic Socks for Men and Women - Non Binding Socks Women | Neuropathy Socks for Men and Neuropathy Socks for Women
Original price
$19.95
-
Original price
$24.95
Comfort for Swollen Feet & Ankles - The Pembrook diabetic socks for women and neb are lightweight, non binding with a loose top around the ankles to aid poor blood circulation. These circulatory socks are easy to pull on over swollen feet and ankles and feel soft and comfortable on the skin.
Great for All Activity Levels - Our womens and mens diabetic socks are great for walking, running and sitting still. They help prevent swelling in the feet and ankles and have a breathable mesh top to keep feet dry and comfortable.
Sizes – Small / Medium size fits mens size 5-9 and womens 6-10. Large / X-Large size fits diabetic socks for men 9-12 and womens size 10-13. These diabetic socks for men and women are loose fitting, but stays up and do not bunch around the ankles.
Performance Blend - We at Pembrook like to ensure that our customers are provided with the best kind of comfort that socks for diabetics men and womens diabetic socks can offer. That is why our socks are made for maximum performance and durability. The Pembrook advanced yarn blend resists odors to keep you smelling as good as you'll look.
Designed to Last - Pembrook socks are easy to care for, so you can rest assured that your knee high socks will survive the wear and tear of everyday life. Our socks are durable, machine washable, and sturdy so that your money goes a long, long way.